Not all vehicle wraps are done for advertising and marketing to increase sales, but sometimes they are done for safety and accountability – either way they still impact the public.
Sign Source Solution vehicle wrapping is proud to present the first images of the freshly decorated Special Investigations Unit mobile command center Commissioned by the Province of Ontario. This is the first vehicle wrap that Sign Source Solution has ever done for the government, and so this is a matter of pride for us. We have done signs before – see our earlier blog report about the business signs along Hwy 7 – but this is our first vehicle wrapping project.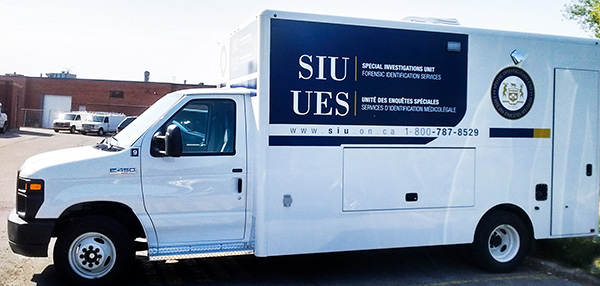 We responded to a request for proposal and we won the bid!
The Province of Ontario allowed vendors to submit bid tenders – they requested proposals for decals for a fleet of recently upgraded white SIU vehicles.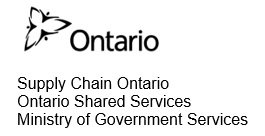 Supply Chain Management. The official request reads as follows, "To provide artwork, design and install vehicle (non-reflective) graphics on 4 Ford E450 trucks with fabricated boxes on front, both sides and rear. Measurements of trucks and SIU logos are attached. Logos and lettering must be in both English and French and include contact information on both sides as follows: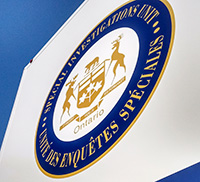 SPECIAL INVESTIGATIONS UNIT
FORENSIC IDENTIFICATION SERVICES
UNITÉ DES ENQUÊTES SPÉCIALES
SERVICES D'IDENTIFICATION MÉDICOLÉGALE
1-800-787-8529
www.siu.on.ca
Trucks to be numbered individually in front of rear view mirror on both sides with 09; 10; 11; 12."
We applied 3M 40c vinyl decals to the factory white painted exteriors of the vehicle seen in the pictures. There can be no discolouration. Our white vinyl decals must appear seamless as white on white to subconsciously communicate the clinical sterility of justice.
A Brief History of the SIU Vehicles

The Special Investigations Unit is frequently in the news as they work high profile cases involving police shootings. This government agency investigates police. But It may surprise you to know this organization is relatively young in the grand scheme of things. The SIU is only about twenty-five years old, and so it's still a fresh 'design concept' in the history of modern policing. We cannot go back one hundred years to be retro or borrow an ancient symbol.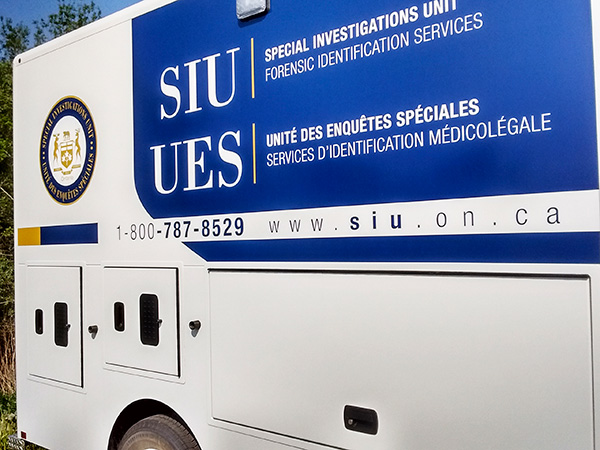 The SIU was formally conceived in mid-1980's after a series of interactions involving guns, Toronto police and urban youth of various ethnicity raised concerns about the manner in which police shootings were being handled by senior staff at law enforcement agencies. Before the 1990s, police in Ontario investigated themselves, or other nearby police services were called in to conduct examinations of what happened. So needless to say there were some doubts about objectivity and the truthfulness of the findings of these special police task forces. In 1992 the SIU was created as an independent body to investigate police involved shootings, suspicious deaths or any shenanigans reported by the public or other agencies.
The SIU got their own fleet of vehicles in 2001 because they saw the need for their investigators to respond more quickly and to show up at areas of interest with their equipment in their own vehicle, and not in police vehicles or unmarked automobiles as had been done in the 1990s. Today in 2016, the unit has four new Ford E450 trucks designed to transport forensic identification equipment safely to and from incident locations. The vehicles are fully equipped to preserve and convey evidence back to the lock-up while reducing the risk of contamination.
The Mobile Command Unit (MCU) came into service in December 2009. This is the most interesting vehicle of all as its filled with high tech gear that only comes out when the crew is solving major crimes. Additionally, the MCU allows investigators to have a place to meet while on scene, conduct witness interviews, and maintain a visible presence independent of police.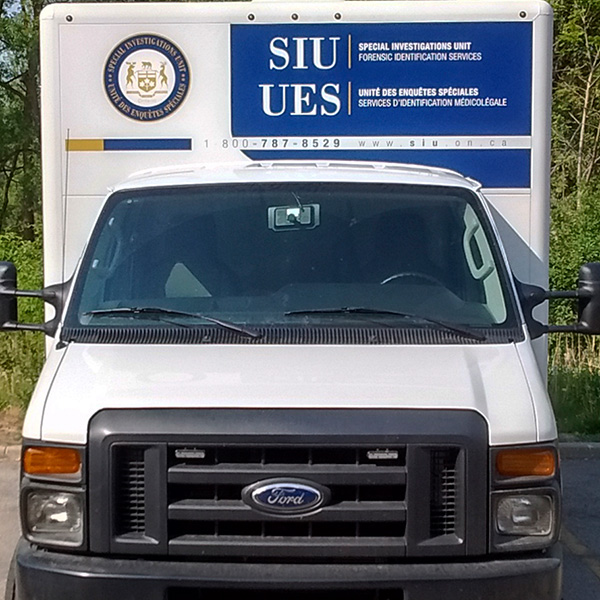 Nataly Tucci our lead graphic designer conceived the straightforward design to be something that would stand out in any crowded crime scene. She did a fantastic job of keeping it simple and powerful. When asked to reflect on her process she wrote, "I have chosen as a principal unit graphic the crest inside the logo. It has been extrapolated to create a frame to insert the information such as initials and Special Investigation Unit. Following the crest / angle / decrescent line, all the typographic elements were alienated. Graphics elements placed on the truck were perfectly inserted in an imaginary grip, creating balance and stability providing an easy reading for drivers."
On the risky business of combining fonts, Nataly wrote, "The typography used was the same that they had on their logos and graphic identity. I played with the thickness of the font, in order to create a proper level of perception of the information. The government fonts typically are Sans Serif fonts for Display/Logo and Serif font for special content. I combined fonts. I used Sans Serif because: It's quite easily seen at a distance and understood in that it is simple and generally easy to read. Also I believe its beneficial in an aesthetic sense in the context of the design. Sans Serif font is labeled as modern, simplistic, minimal. I used Serif font because it makes the individual letters more distinctive and easier for our brains to recognize more quickly and it conveys a message of formality."
On managing this creative process, we can report that the design layout stage took about four days of back and forth email correspondence, while the production itself took only one day, and the installation on the vehicle took one day to complete. Customer feedback was very good; they were happy with the outcome of the first van.
Over the next few months, we will be wrapping all of the vehicles, as they travel to and from our shop from their home bases in Kingston, Orillia, Kitchener and the SIU head office in Mississauga. The vehicles are stationed strategically throughout the province in order to respond more quickly to remote crime scenes.
Now with excellent typography this government iconography will serve to show the public the full width and breadth of our justice system throughout the Province of Ontario, which is certainly one of the most nobler applications of our printed vinyl signage in Canadian society.