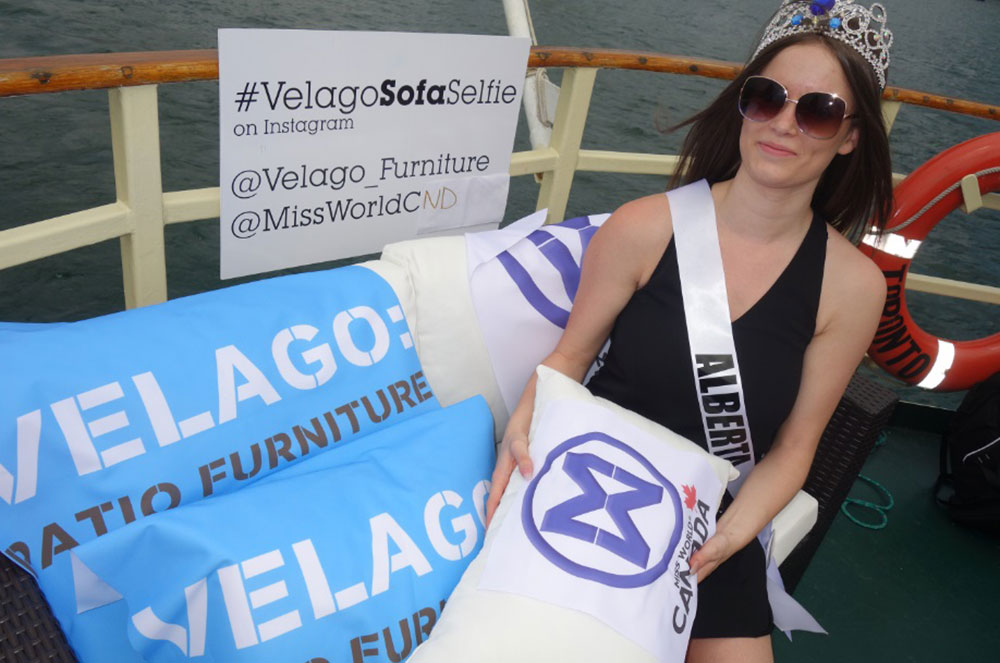 July 2017 was really busy at Sign Source Solution as we completed some big assignments for some very notable organizations. In addition to a myriad of vehicle wraps and some big display advertising pieces, we were asked by Tastic Web Marketing in Mississauga to help make compelling event signage for a 'world' class fashion and beauty contest happening in downtown Toronto later that month.
In one day, Monday the 17th of July we completed three different types of signage for the Miss World Canada beauty pageant 'Experience Week'.
Did we mention this happened on a Monday? You guessed it. The client needed the stuff that day to be used in various marketing setups throughout the week. So of course, we dropped everything to help him.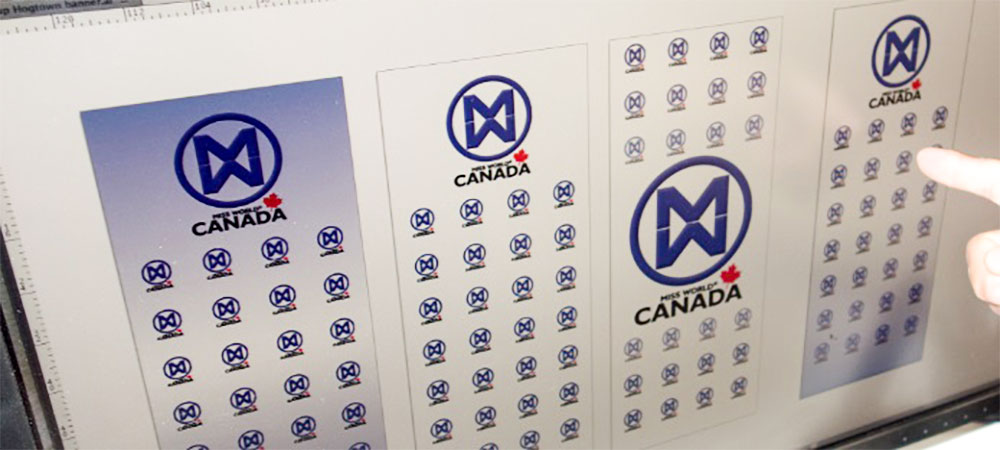 Designing Miss World Canada Pop-Up Banners
Diego used Illustrator to make a selection of attractive pop-up banner designs and the client selected one which incorporated a gradient shift from blue to white.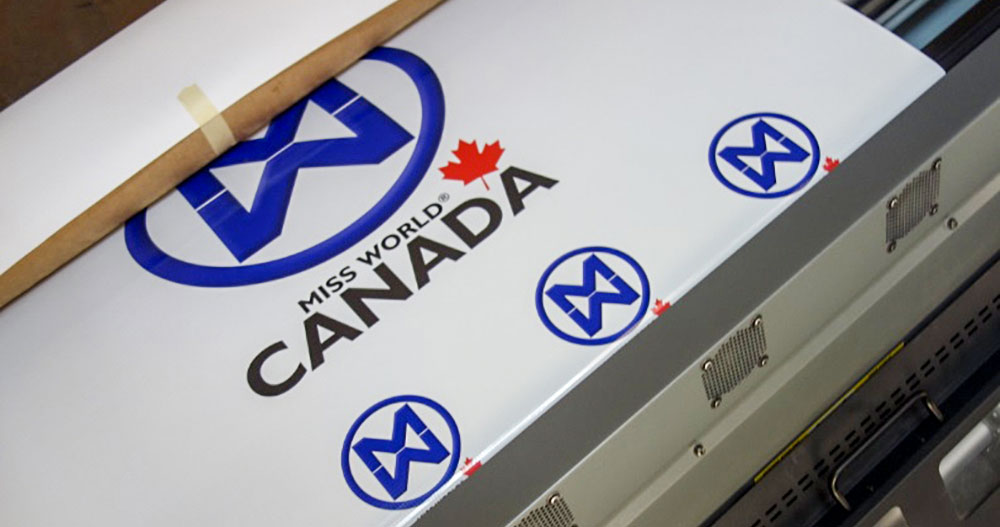 Here is how the item looked as it was being printed. Once complete this popup banner was very handsome and became the subject of a great many 'shareable moments' throughout the week.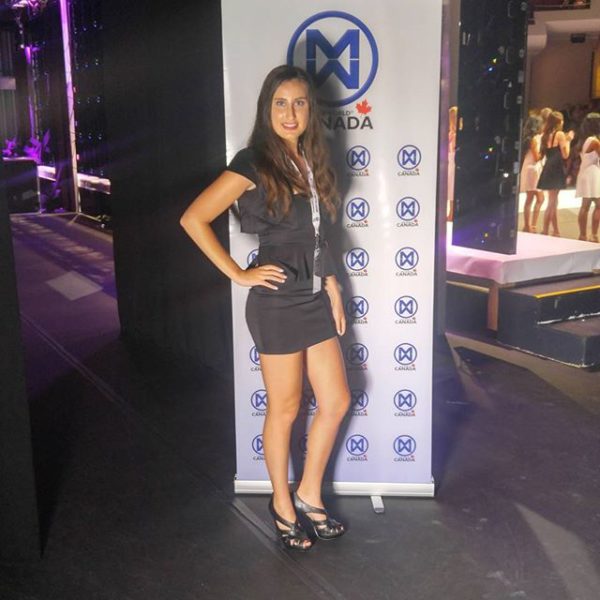 This author's favourite piece of social media made incorporating this item is of a nameless PR agent backstage sending a tweet out WHILE the show is happening in the background – a true backstage moment to be sure. The only reason the banner was backstage however was because of another artist.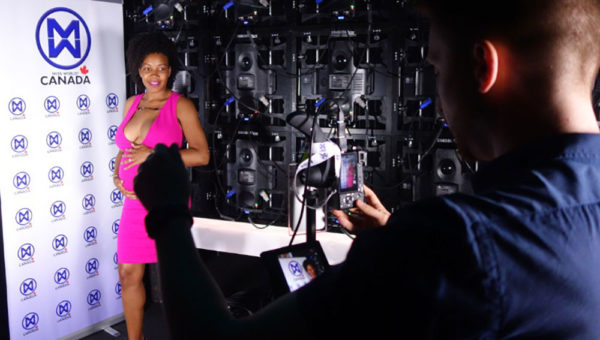 Serge Kerbel is a world class cinemagrapher was using the freshly printed Miss World Canada pop-up banner to make an absolutely stunning 'cinemagraphs' including this moving image of Dahlia DeSouza below wearing the Unity Watch from UptotheTime watches her own entrepreneurial fashion accessories startup.
Harnessing authentic social media at events requires clear and direct print media be made in advance.

Chloroplast A Frame Signs
Marketing to millennials is tricky and requires subtle cues and soft tactics; website URLs and Instagram and Twitter hashtags are mandatory ingredients on modern vehicle wraps and signs but usually in small font and in the background. Beauty pageants are less subtle. Delegates participating in fashion and beauty contest events are constantly being plied with 3rd party marketing opportunities. Indeed, several local fashion designers and merchandisers line up to get pictures of the delegates wearing their clothes or using their makeup at the opening Sponsor Party. Throughout the week various travel and tourism destinations bend over backwards to accommodate these young attractive people.
Businesses selfishly donate to the beauty pageant to help their own web properties. They do for the web marketing potential of having sixty young people tweet and Instagram their business experience to their real life followers. If every girl has a thousand friends (which is an easy minimum consideration for these young socialites) then one event could impact 60K potential consumers.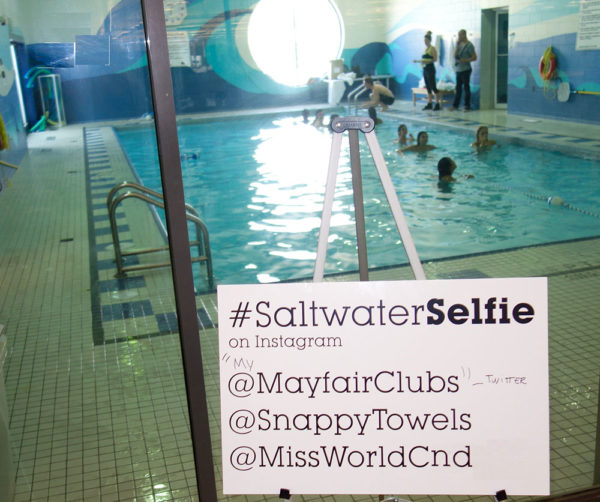 Effective A frame signage showing event hashtags and partner account handles can double or triple the social media marketing impact of live events simply by making these hashtags and handles known to all participants. Millennials should not have to go looking for the sponsor business Instagram account – they won't do it. If the business account name doesn't come up in the automation as they're typing, they won't add it to the tweet or Instagram media they're publishing, and then anyone impacted by their art will have to dig for clues. Signs cure that confusion and streamline event marketing by coalescing all creative works under one or two popular hashtags that can be measured afterwards for a more accurate accounting and event marketing ROI calculation.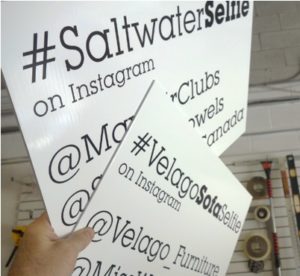 In Miss World Canada, all the entrants have sophisticated smartphones with robust data plans and making them use these devices to broadcast images of themselves doing fun things is what beauty pageant sponsorship marketing is all about. Our signage informed ladies of two separate attractions, and put the correct hashtags right in front of their eyes. We made signs for the Miss World Canada Fitness Day Activities at Mayfair Clubs Lakeshore, specifically the #SaltwaterSelfie marketing strategy and we also made signs for the #VelagoSofaSelfie which happened on Wednesday on the boat cruise.
Fabric Cushion Covers for Mariposa Cruises – Velago Patio Furniture's Sofa Selfie Shoot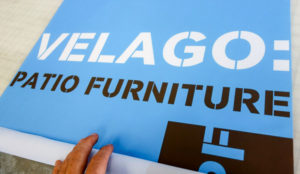 We printed sponsor logos on canvas and cloth fabric to decorate a very important piece of furniture. In the middle of Experience Week, the entire assemble went for a cruise. We printed the Miss World Canada logo and the Velago Patio Furniture logo on fabric to brand the seat cushions of the outdoor sofa that went for a boat ride on Weds 19 July 2017. Printing on fabric is a real challenge and our reliable equipment gave us nice results. The client was very happy and the sofa company kept the pillow cases pieces for their showroom after the event.
You can read all about Mariposa Cruises – Miss World Canada harbour boat cruise which fed the girls lunch and hosted three online challenges that were complicated by the strange absence of WIFI in the harbour.
Before all the dancing happened on Mariposa Cruises' Oriole charter vessel, the delegates were lured into posting images of themselves on deck at the stations, trying on designer sunglasses and posing on sofa sections with the city of Toronto's famous skyline in the background. The delegates read our signs and acted accordingly. Here is Miss South Western Ontario's 2nd place Instagram media.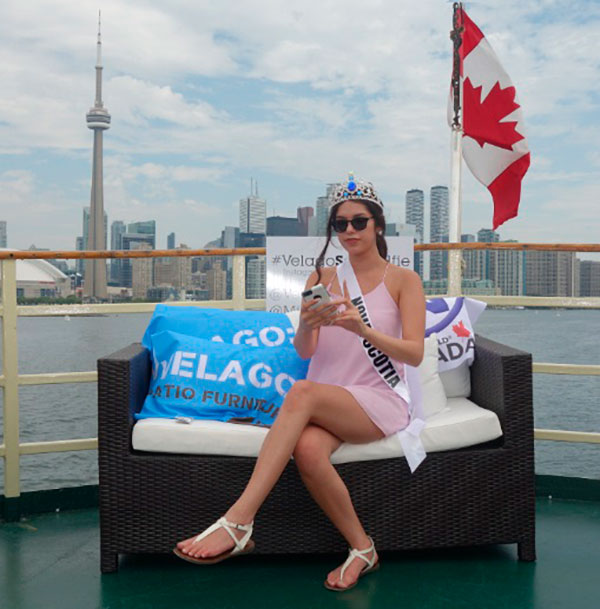 Print media was an important part of the 2017 Search for Miss World Canada sponsor promotions, all of which were very successful by the way. The patio furniture company is enjoying vastly more web traffic, and Mayfair Clubs gym memberships are higher than usual for summertime. Long live print media!