Three tall condo towers loom over Legion Rd North in Etobicoke and represent a dense pocket of humanity, living in splendour, sandwiched between the lake and the westernmost stretch of the Gardiner Expressway.
Built in 2009, the vast residential complex is home to three separate towers; iLoft, California Condos and The Tides at Mystic Pointe. Although they have separate addresses, 155,165,185 Legion Rd respectively, all three condo towers share a common car park, and it's this adjoining structure that needed some adornment in 2018.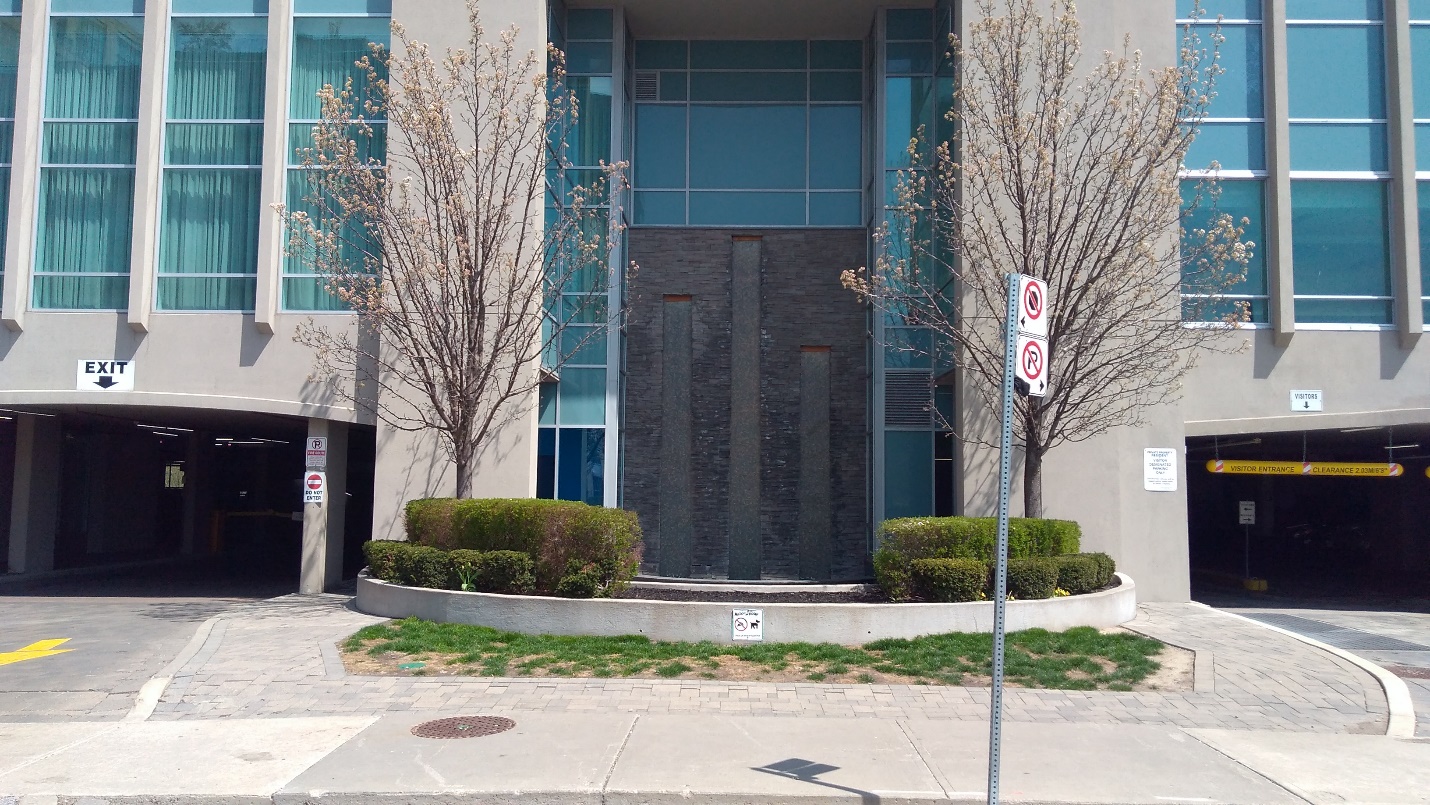 Artistic merit aside, a feature wall is really just another form of exterior business signage. The image above shows the concrete relief that existed here for nine years up to this point; originally there was a water fountain in this central nook. The concrete pad and backsplash were appropriate when the trees out front were smaller, and the condominium developers used water thematically in their marketing material; there are indoor and outdoor swimming pools, spas and saunas in these properties.
Exterior water fountains don't age well in Canada, and we can only imagine the difficulties the property managers must have had making this in-ground attraction work in the spring or fall, never mind the ice-cold winters near the lake. Suffice to say, nine years after its creation, the concrete vestibule needed a facelift to match the changing landscape around this luxury development.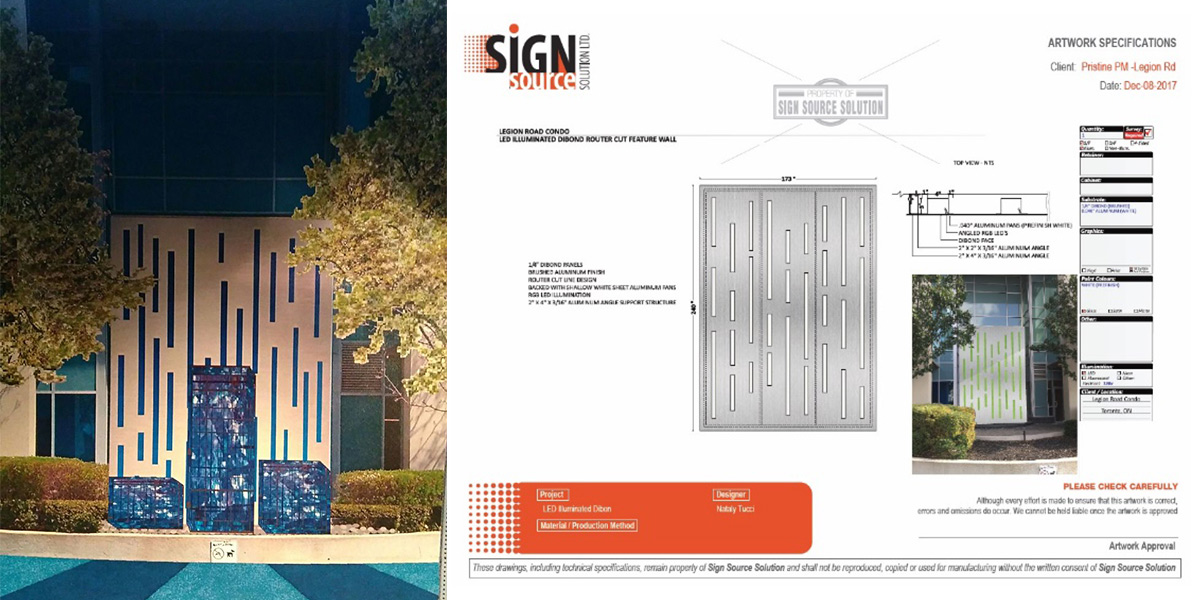 Feature Walls can Fix Design Mistakes
Sign Source Solution got involved in the project to make a Feature Wall for this space in November 2017 when Adam Eisler of Pristine Property Maintenance submitted the colourful design seen on the left.
In total, Sign Source Solution spent seven weeks fabricating the unit, but it took the whole winter sending emails back and forth to various stakeholders before we were ready to install the unit on site.
Planning the build and installation required special visits from some very experienced professionals. Our engineer helped us get started, and the condo board(s) weighed in with insights from the electrician and a window specialist; for weeks our sign installers and manufacturing people were continually tweaking the design. Every round of changes meant that all parties needed to see and comment on the new schematics, and the approval process would start all over again. Finally, after weather and other mechanical delays, the installation date was set for the 15th June 2018.
Sign Source Solution designers were the first to visit the site. They went back in November 2017 to get a sense of what was needed. They were followed shortly thereafter by our engineer, who in turn brought an electrician, and they contacted a window specialist; everyone was trying to figure out how to fasten the new Feature Wall to the existing cement wall on site in the most upstanding fashion. The remedy was a thin aluminum frame or 'scab' that was designed by our engineers and erected on site beforehand.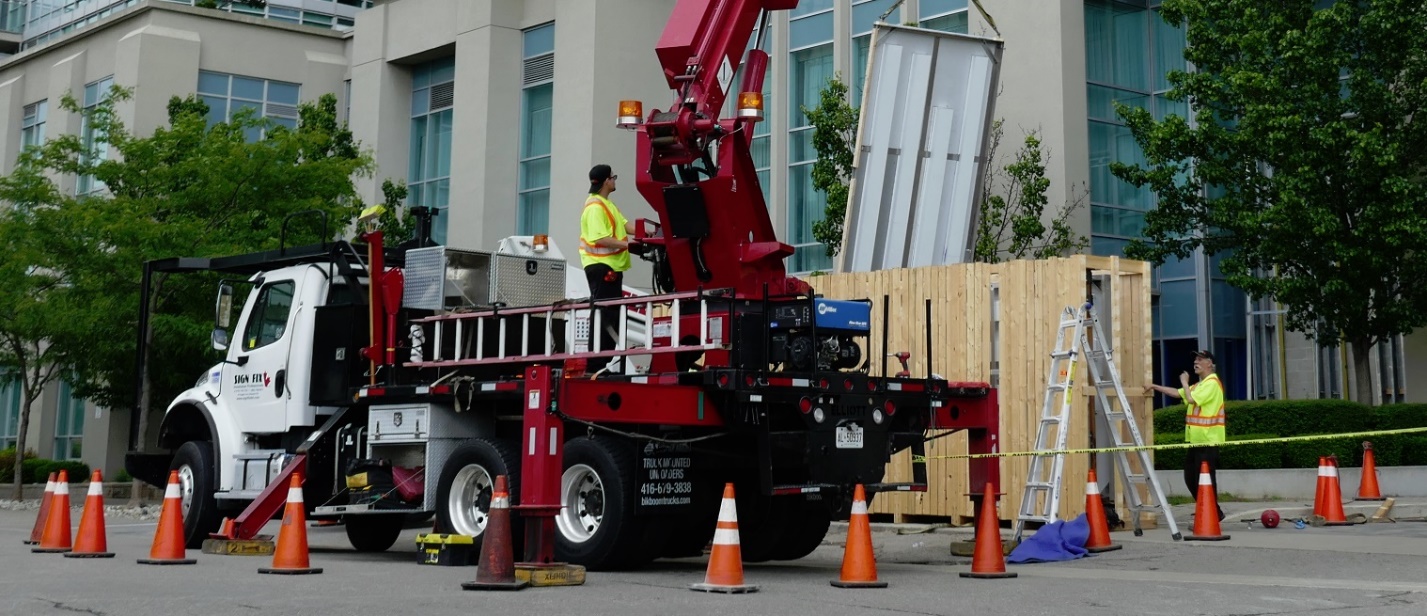 Below you can see it required two trucks and three men to get the newly fashioned Feature Wall hoisted into place on the aluminum frame fixed on the wall behind the derelict water fountain. Readers can see the aluminum 'scab' frame on the wall here below is ready to accept the new fountain frontispiece.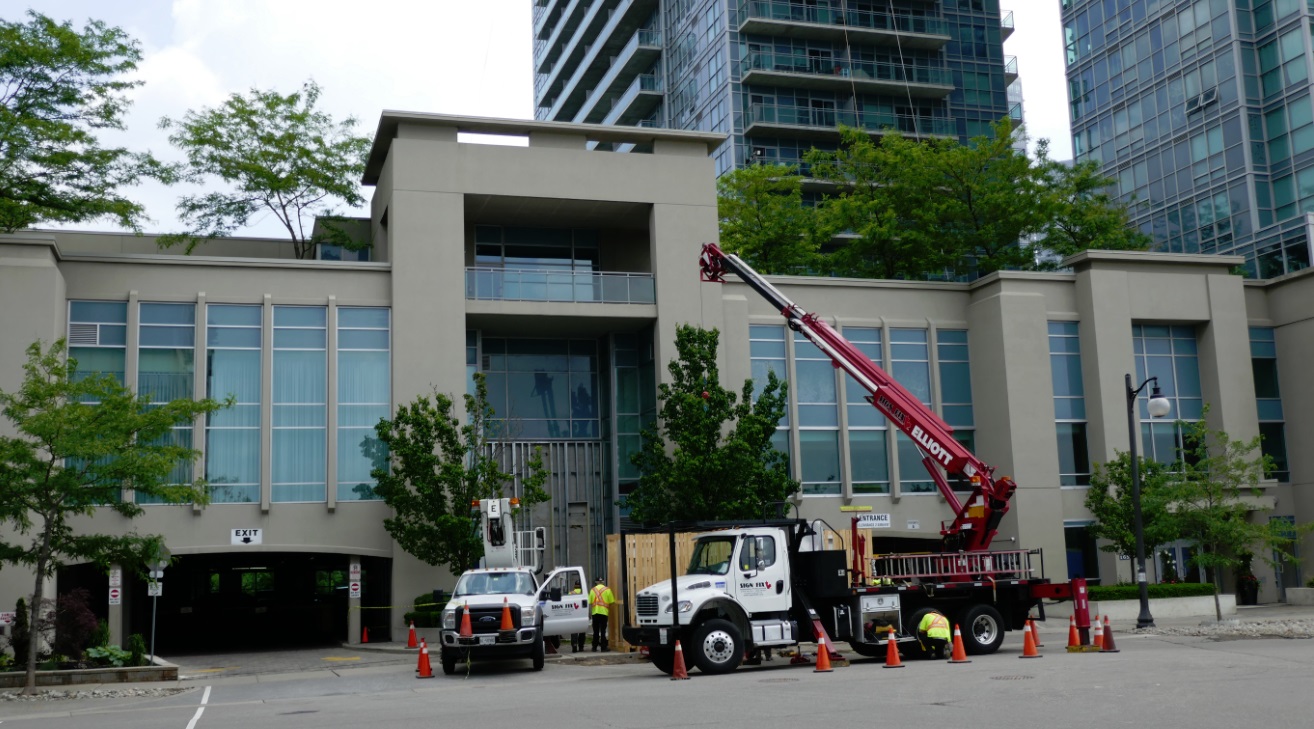 Making the Feature Wall for Legion Rd Condominium Complex
The original artist's Feature Wall design was tweaked (the slots in particular) to allow for production. The finished 'sign' has a brushed aluminum surface.
These are Alu-Panels, which are PVC sandwiched between two thin aluminum panels with cut out vertical slots. This frame construction will not react negatively to hot or cold weather conditions; it will not suffer rain or ice or crack in the blistering heat of summer. Look here at how this one flange pushes out on the wall to ensure it doesn't move even a micrometer in the wind.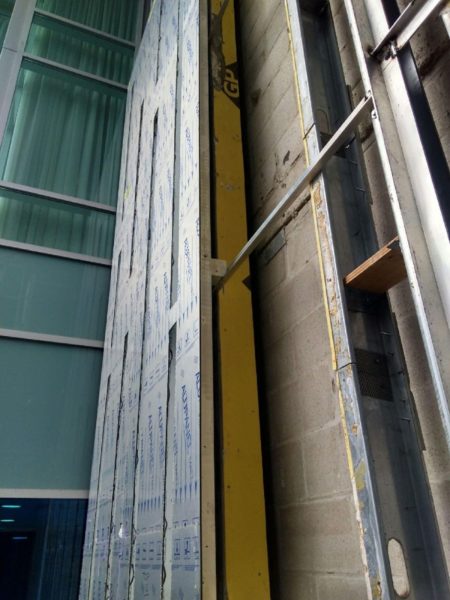 Sign Source Solution added coloured LED lights behind these slots. The colours will change in a preprogrammed sequence which can be adjusted on site using a hand-held remote-control device. The colour patterns are breathtaking as they change or fade with different rates of speed using 16 pre-set sequences. The pattern can be sped-up or slowed; it can be programmed to hold on certain colours, reverse direction, spin the pattern clockwise or counter-clockwise and dim or get brighter depending on the time of day. Sign Source Solution uses Allanson LED modules (http://www.allansonled.com/ *rel=nofollow) to control the LED light sources and establish the lighting routines. This North American made control unit is a very high quality and has a good reputation for being a durable low maintenance solution, which means it's consistent with Sign Source Solution's own high standards.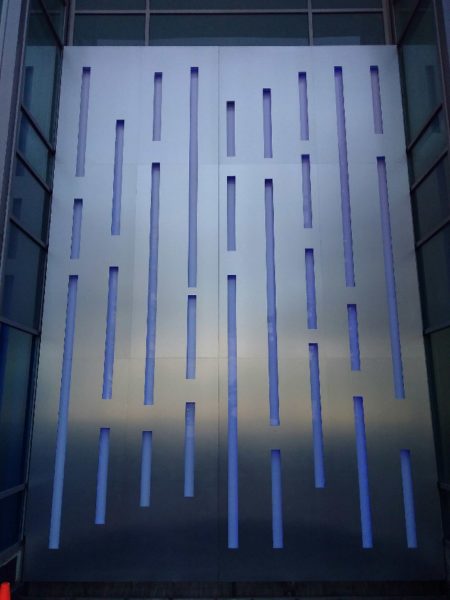 Behold the Feature Wall.
At rest in this final photo, when the LED lights dance in the slots, the new Feature Wall at 185 Legion Rd in Etobicoke is set to become an all-weather fountain of light and colour.
Do you have need for such shiny surfaces at your site?