Sign Source Solution brought another interesting project across the finish line last month when we fashioned exterior LED business sign for one of North America's largest suppliers of electronic cable, wiring and accessories. This notable assignment showcases some lovely sign technology, and our firm's ability to navigate the many legal challenges involved in getting permits to erect brand messages that will be seen by motorists on Hwy 407.
First established in Montreal in 1969, Provo Ltd supplies electronic cable, wiring and accessories to many different industries with the bulk of their product catalog focused squarely on Canada's rapidly expanding security, automation, and telecommunications sectors.
Now headquartered here in Toronto, or more specifically, at 620 Rowntree Dairy Road in Woodbridge, Ontario, they first called us almost one year ago to share their dream of erecting a sign that could be seen by commuters travelling on Hwy 407 (just East of Pine Valley Road, on the north side). We went to work almost immediately, and last month we made their dream a reality.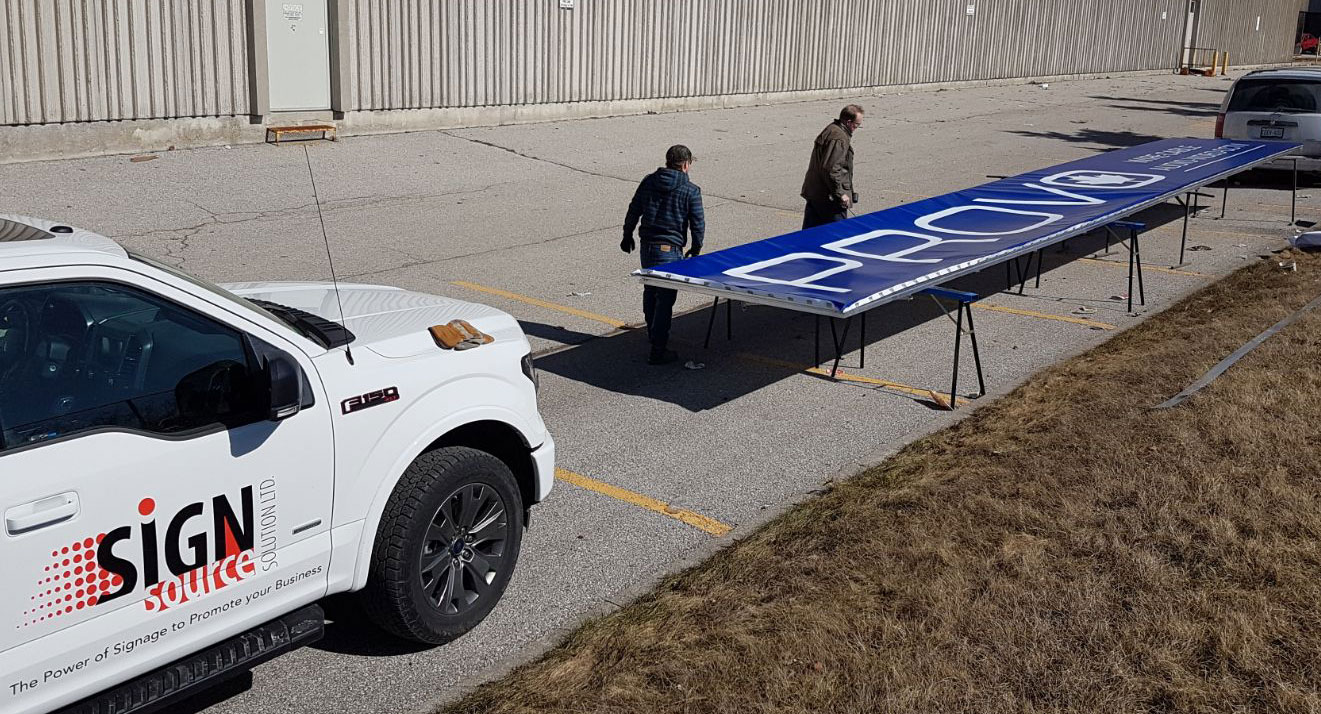 Ontario commuters both love and hate Hwy 407
This well-maintained Hwy 407 expressway is one of two private highways in the province of Ontario (the other being Hwy 412 in Whitby). Because it connects so many urban centers along the Golden Horseshoe, Hwy 407 is a very popular alternative to congested public roads.  Do you know how many people use Hwy 407 each month?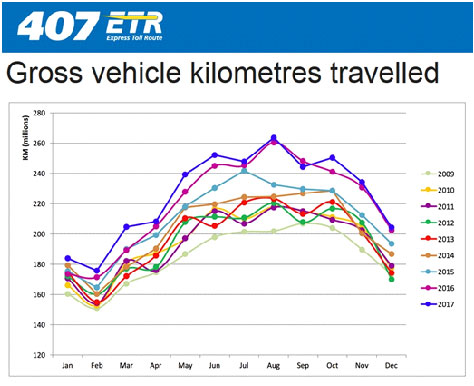 As you can see the traffic numbers are steadily rising with the summer months, July, August and Sept 2017 all seeing approximately 250 million users. Nobody likes to sit in traffic on hot summer afternoons and Hwy 407 is a fast-moving option to beat the jam.
Erecting Signage Along Hwy 407 Requires a Special Permit
The process for getting a permit to put up a sign starts with the business and / or a sign company submitting a preliminary design on behalf of the business. These drawings accompany the forms when the paperwork is filed with the Ministry of Transportation of Ontario (MTO). This governmental agency is responsible for managing all aspects of the provincial highway corridor network, and that includes all business signs facing motorists. MTO regulates the size, quantity and type of sign that is exposed to drivers on both public and private highways across the province. Once our engineers got the MTO permit, we next applied for a permit with the City of Vaughan. The actual production of Provo's exterior business sign didn't start until after all permits had been secured – Feb 2018.
Our first site survey happened back on Aug 31st, 2017. On that day, we also had our first of what ended up being a series of meetings with the owners who, initially, were not entirely convinced of the methods we were proposing. They soon came around though, and we agreed to be the fabricator and install an illuminated sign made with Cooley-Brite® 'Eradicated Flex Face'. Right now, you are probably wondering, what the heck is that?
What is a sign with an eradicable face?
That means pieces on the visible surface of the sign can be eradicated (physically – mechanically, electronically, or chemically removed) and then, when the plane is lit from beneath, a message is made to appear on the front. Eradicable Faces are ideal for back-lit awnings and signage with a single bold background color. The blue banner then goes thru Eradication, where we use chemicals to remove the blue to produce the desired message on the surface, as per the mock-up that was approved by the customer.
Eradicable Flex Face signage is commonly used for business signs, and especially banks and store front sign awnings that require a long life. The 'flex' means we stretched it to a specified length. Chemical eradication will remove the colour (in this case blue) and you end up with a white banner, and to this white surface, an additional colour can be added.
The Provo sign is frameless. Essentially this is a huge blue banner that will be stretched end to end. Cooley-Brite® is the sign industry's original backlit sign material. This is a premium product today that is imitated by other foreign manufacturers, but only Cooley-Brite (20 oz.) comes with an eight-year warranty*. This membrane features a scrim design that is nearly invisible to allow for maximum light diffusion, consistent translucency, and brilliant eradicable colors in backlit signs and awnings.

Designs, logos and copy can be formed through eradication. But as mentioned above, Eradicable Flex Faces can also be decorated with a translucent vinyl to add logos or colour or even depth to your images.  The genius of the system is, the exposed eradicated white background areas stay white because of high quality pigments and additives that provide resistance to the fading power of high UV sunlight.   The kit comes in a range of popular background colors and various sizes up to 7 feet wide.
Today, the blue Provo beacon you can see from Hwy 407 is an illuminated wall sign that has been fashioned with LED lights.  It is thin and lightweight, and the LED lights inside are proven to use approximately one third of the power that would otherwise be consumed by regular fluorescent tubes. And best of all, hardly any maintenance is required.  The wiring inside is all done (where possible) with Provo's (wires) recommended brands.
After we prepared the sign in our shop, on Tuesday March 13th, 2018, we assembled the 6′ x 40′ sign on site. The finished sign was elevated by a bucket truck and attached to the concrete wall with Tapcons which any contractor or home handyman knows are concrete screws.  There is no heavy box of ballasts and transformers in this lightweight LED solution.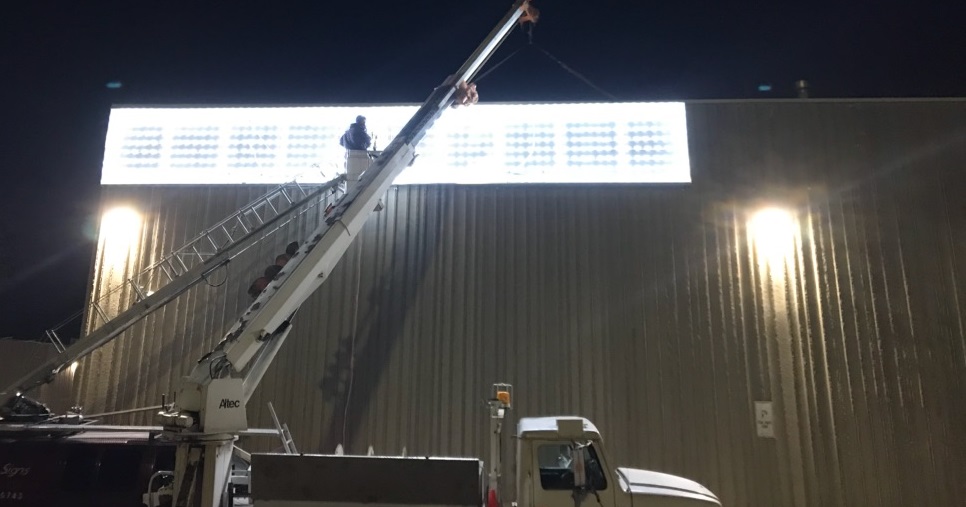 Immediately before the sign was mounted, the rows of internal LED lights were tested with our external generator. Everything worked as designed.
Provo writes on their website about how they have remained 'fiercely' independent based on their ability to deliver World class product at affordable prices.  This sign will help fix their location in the minds of thousands of Ontarians motoring along Hwy 407 for many years to come, and we hope it serves as a small milestone in their continued growth and enduring business legacy.
Illuminated sign box
This is what the LED Lights and Wiring inside the illuminated sign box – looks like.