Here's an exciting first look at the cars and pick-up trucks' wrap designs that Sign Source Solution is vehicle wrapping for M.E. Contracting, a Toronto based landscaping company whose many vehicles are about to become mobile billboards visualizing their services for commuters trapped in rush hour traffic all across the G.T.A.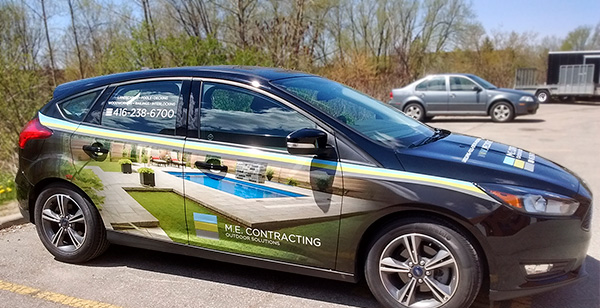 M.E. Contracting specializes in upscale outdoor landscaping, and the images we put on this vehicle perfectly illustrates what the company can offer home owners looking to redecorate their property. The company redesigns residential backyards with kickass pools, impressive fences, outdoor kitchens and interlocking brick driveways, paths and patios.
Amazing vinyl wrap quality and detail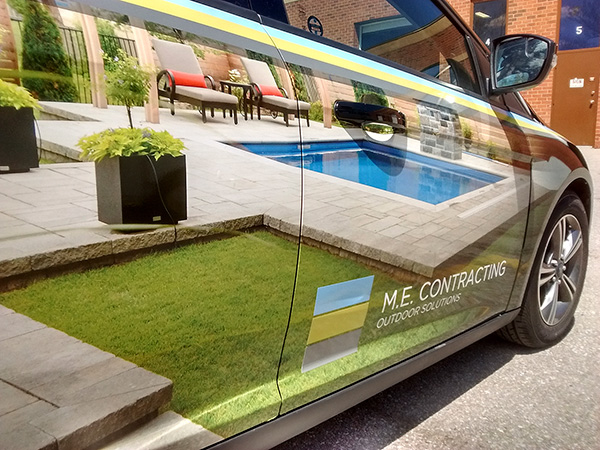 M.E. Contracting is located at 63 Alness St. Unit 7, in Toronto, Ontario which is also the location of their unique and impressively large landscaping showroom. It's the only such installation in Ontario that we know about, and its over 7,000 sq feet in area. M.E. Contracting has stuffed this facility with thousands of landscaping products and samples including a wide selection of patio stones, wooden decks, pergolas, several outdoor kitchens, outdoor furniture and even a full size fibreglass pool. This gives visiting property developers an authentic audio, visual and an especially tactile experience when shopping, and trying to visualize their dream while sourcing materials.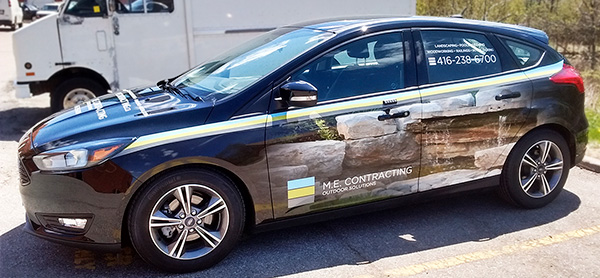 In the example shown here, Nataly Tucci our designer opted to put the firm's contact information on the front of the car, and paint the sides with soft edged images of a beautiful backyard. It's just the kind of swimming pool scene that many rush hour commuters dream of returning home to on a hot summer afternoon, and it will certainly turn some heads and provoke some folks to call the office and make arrangements for a sales call and estimate. The gorgeous concrete in-ground pool with a stone BBQ oven and lawn chairs in the sunlight background is an inspiring scene for property owners dreaming of doing more entertaining in their backyards. As usual, the client was thrilled with Nataly's work,
"Wow! Loved it! Thanks", was what Keren Abu, a Partner at M.E. Contracting wrote in her reply email to these proofs.
So keep your eyes open for this image passing you on the highway soon – now you know where it came from.