In today's line of work, it's important to make your business stand out from the crowd. With millions of businesses competing for the same customer market, this can be tough to do, but it's essential for survival. That's where vehicle graphics and wraps, including pickup truck wraps, trailer wrap designs, and truck vinyl wraps, enter the picture and make a transformative difference to your branding, visibility, and bottom-line. Here are three reasons why your business needs professionally designed and installed vehicle wraps now to boost your branding: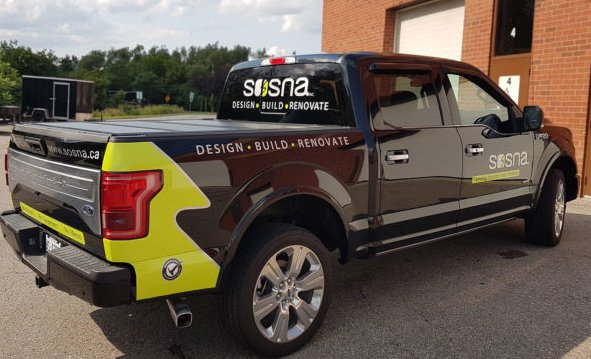 An Affordable Way To Advertise
Spending hundreds of thousands of dollars on TV, broadcast, and other conventional outreach campaigns is just not an opinion for most businesses. This is where vehicle graphics and wraps come into play as a very affordable advertising option for all businesses. If a business were to put up a static billboard in the GTA, this could cost well over $10,000 per month (depending on the location). For that less than that amount, a business could wrap their truck, trailer, or car to transform them into mobile billboards! What's more, vehicle wraps are a one-time investment that will last for years.
Take Your Advertising On The Go
One of the biggest drawbacks to traditional advertising (i.e. billboards, radio, TV, etc.) is that businesses often aren't effectively reaching their target customer audience. In comparison, vehicle graphics and wraps are mobile, allowing businesses to advertise and go wherever their target market is located. Vehicle graphics and wraps will campaign for your business, day and night, rain or shine, every day of the year.
Vehicle Wraps Work When They're Well-Designed
According to research by the Outdoor Advertising Association of America, 98% of in-car audiences said that they notice vehicle signage, and 29% said they make buying decisions based on that signage. If you want effective vehicle wraps for your business, you need make sure that you have an easy to read and strategically designed wrap that aligns with your brand. By using bright colours, high-quality graphics, concise messaging, and your company name, logo, and contact information, you'll see just how much vehicle wraps will boost your ROI. However, if your wrap is poorly made and doesn't clearly display your branding information, you'll find that it doesn't work as well to promote your business.
Sign Source Solution: Get Quality Vehicle Graphics, Vehicle Wraps & Signs In The GTA
Sign Source Solution offers professional quality vehicle graphics and wraps for all types of vehicles, including pickup truck wraps, trailer wrap designs, and truck vinyl wraps. We use the highest quality 3M products and professional installers so you are guaranteed a great wrap for your vehicle. Contact us today to book your complimentary consultation and to receive a personalized quote.