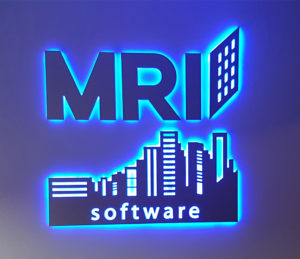 The designers and installers at Sign Source Solution are quite proud of a recently commissioned and delivered lobby sign for MRI Software. This local company is a global organization with clients on five continents. They offer business management software solutions to the global property management industries, and they needed an iconic sign at their front to 'en trance' visitors (and staff).
As a leading provider of real estate enterprise software applications and hosted solutions, MRI called us and asked our team to create a custom interior sign for their office lobby that would positively impact visitors and staff. This is quite an honour because this company venerated and very well respected in its field.
It's hard to imagine that a software company could be older than the personal computer itself, but MRI Software celebrated it's fortieth year in business in 2011.
MRI Software, then called Management Reports Incorporated, was founded in 1971, in Cleveland, Ohio, by Fred and Sid Goodman. These men built the company around their vision of providing timely, accurate reporting to the global property management industry. Through the technological innovations and paradigm shifts of the next 45 years, this vision has remained at the core of MRI Software's promise to its customers right up to this summer when they contacted us for some impressive interior signage.

With their business and their core values in mind, the designers at Sign Source Solution crafted this sign for the interior lobby of the MRI Software head office. We made a blue LED illumination sign with brushed aluminum vinyl face, and with the grain of the brushed aluminum being aligned horizontal before being laminated onto 1' inch thick acrylic.
Our technicians grooved channels inside the acrylic from the back and inserted strips of Blue LED Lights.
Then out on the site, our installers ran the wires inside the wall and connected to a power supply in the ceiling for a nice and clean look on the surface.
MRI Software exists to enable the real estate industry to improve where people work and live. And Sign Source Solution exists to help improve the branding and how society perceives MRI Software, and every business for which we make sign solutions. Call today to discuss your business needs.