Sign Source Solution is well known for making attractive and convenient pop-up banners, and vinyl signage for hanging on walls and wrapping around tables at events. We've made events signage of all occasions, and now we can add Street Festival Game Attraction to our long list of credentials.
In May 2018, Archer Dental Little Italy at 564 College St decided to participate in the annual Taste of Little Italy street festival that happens on the roadway right in front of their downtown Toronto location. They reasoned they could use the three-day event to meet and greet new people and make new relationships with locals and possibly garner some new business. But first they needed an attraction, a reason for people to stop and say hello.
The annual Taste of Little Italy street festival is a culturally rich celebration that transforms College Street from Bathurst to Shaw into an Italian promenade. Visitors from across the city, and all over Ontario come to the area and enjoy seeing and sampling the offerings made by participating shops (especially the Italian restaurants and cafes lining College Street). Each venue puts out something special for customers all along the four-block stretch.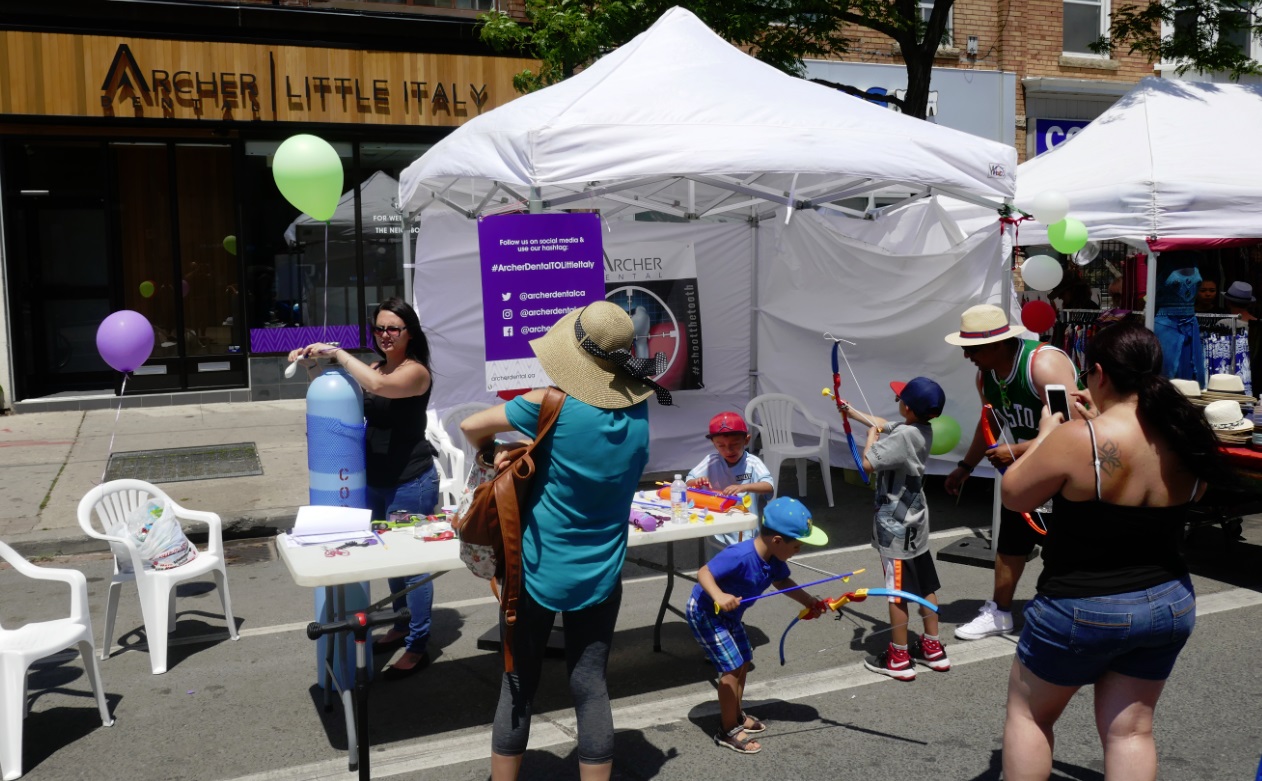 This annual event brings thousands of people to College St which is Toronto's foremost Little Italy to experience the perks of the neighbourhood, and so the dentists at Archer Dental realized they needed something smart to make people notice them and their nearby dental office.
Archer Dental's #ShootTheTooth Archery Game at 2018 Taste of Little Italy
During the 2018 Taste of Little Italy street festival Archer Dental let everyone know there's a new dentist on College St by hosting a fun game where kids under 15 could shoot rubber suction cup tipped arrows and strike a 4×4 tooth target. Winners got sugar-free ice cream from the shop next door.
The activity was simple – shoot the tooth.  Because of Katniss, the female lead in Hunger Games, the sport of archery now appeals to young people of both genders. The booth attendants that day asked participants to pick out a bow & arrow from their selection and shoot the tooth that appeared in the target sights emblazoned on a vinyl sheet under Archer Dental's name and logo.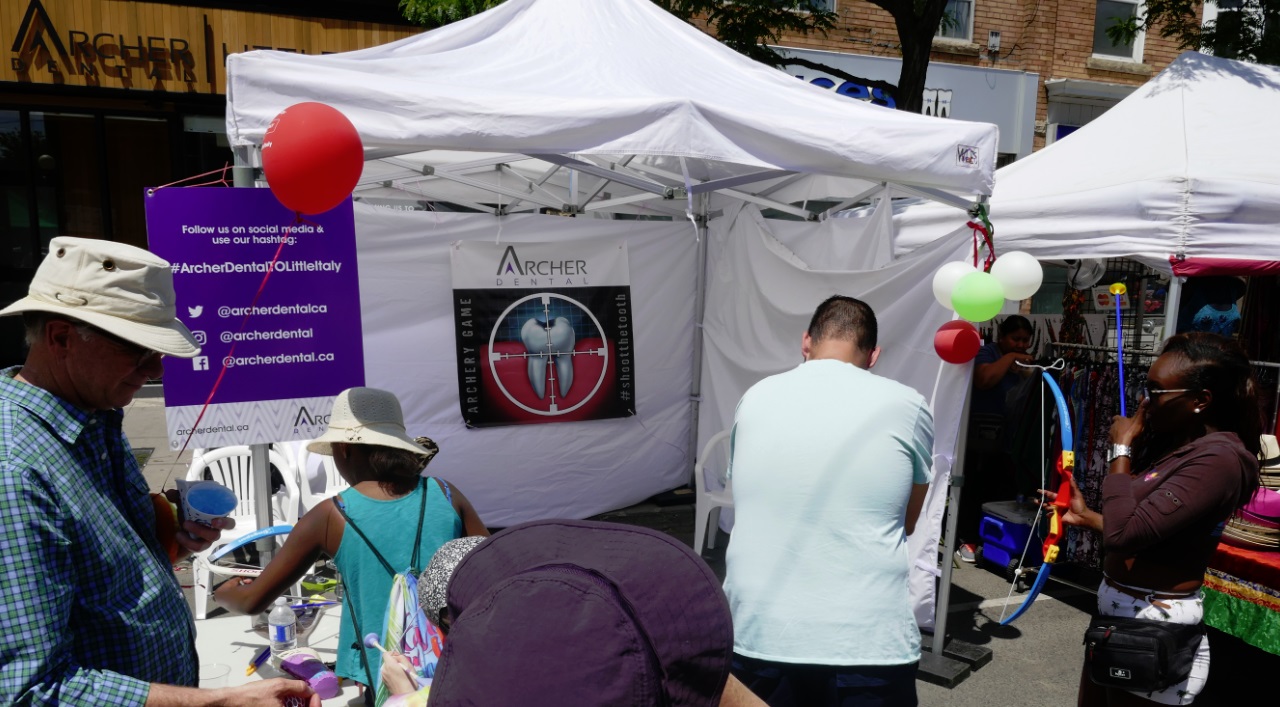 Earlier that month we had printed the target sign on two different materials; we printed it on rigid chloroplast and as 4×4 vinyl banner, grommeted in eight places. The vinyl proved sheet proved to be easier to manage and more effective, and that option was what was used on the day
Winners received a free ice cream cup (gift certificate) from the The Big Chill, a classic neighborhood ice cream parlor located right next door to Archer Dental Little Italy and visible in the background of many of these pictures.
All participants walked away with a balloon in one of three primary Italian flag colours – red, white or green.
Event branding is all about capturing the essence of your brand and giving it a proper showcase. In this situation, this archery-related sports activity checked a lot of boxes.  For one thing, it's a kid magnet.  Young people would become very excited at the idea of using a suction cup bow & arrow to shoot a tooth.  Mom and Dad are likely to be equally thrilled to be part of the action and, without much prompting, they would reach for their phones to record the moment for themselves and friends This is why we were very careful to put the Archer Dental logo on the tooth target sign. Even though it's a game attraction, this is still very much a vinyl sign and wonderfully interactive branding opportunity in the age of digital media.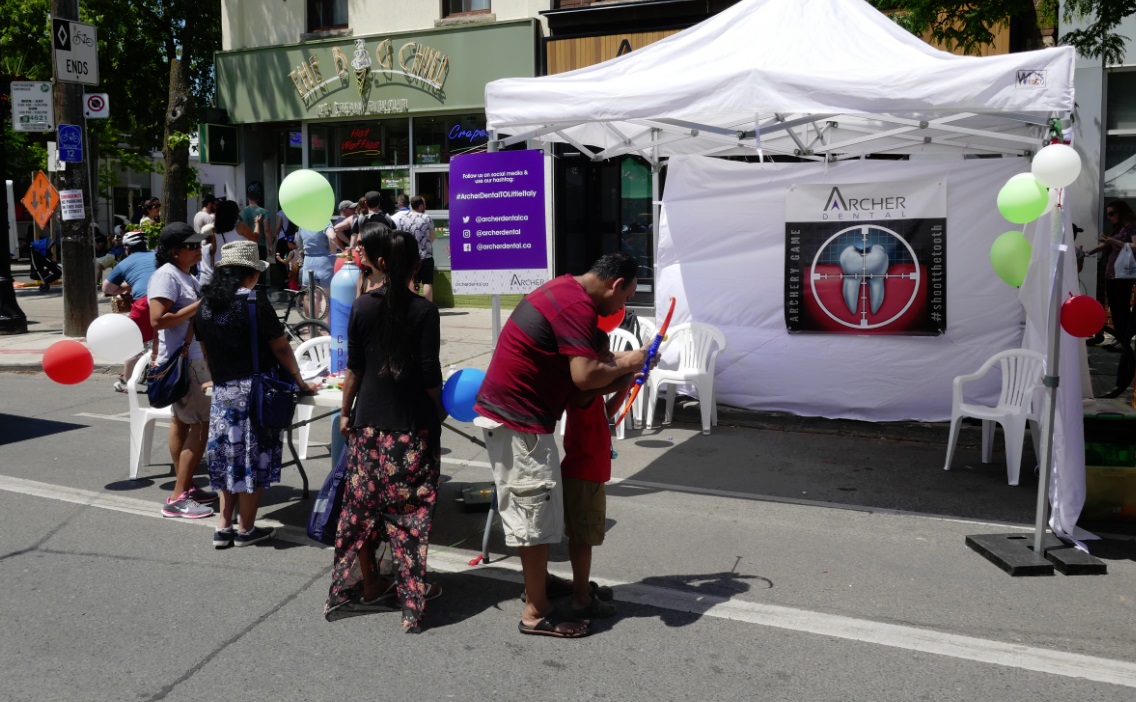 Having a storefront location in the middle of a busy street festival allows Archer Dental the rare and special opportunity to reach out and directly interface with the public right in front of our dental office.  During the installation, they challenged over a hundred Toronto area families to shoot the tooth and helped them experience fun moments they'll never forget.
This is a smart marketing case study showcasing the power of inexpensive vinyl signage to impact the public when combined with a smart and fun event attractions. The dentists met and were seen by thousands of people, and made hundreds of digital media impressions and most importantly signed up over a dozen new patients. The cost of making the banners and buying suction cup bows and arrows was under a thousand dollars. The marketing and new business return is much greater and so this is a very positive case study for the power of events and event signage in modern digital marketing.