Just recently the vehicle wraps dept. at Sign Source Solution got a phone call from Canada's fastest growing and most disruptive real estate sales solutions company to help them make thousands more brand impressions per day. Property Guys came to us directly (without going through any marketing middlemen) to secure the best price for a car wrap. Working together we collaborated for one whole week to finalize a design, print the vinyl and shape this compelling mobile billboard that will certainly distract drivers and impact thousands of homeowners in every residential community it visits.
The initial design was supplied by Property Guys head office in downtown Toronto. Sent electronically, the artist's hopeful vision was digitally copied onto the vehicle template by our designers. The schematics then went back and forth a few times until this final arrangement was approved. Everyone likes how loud and busy this looks – its very visually disruptive.
The installation process began with production of the graphics; it took one whole day to print and laminate and prepare the 3M vinyl for application. After that was completed our team spent the better part of the next two days applying the material to the car. But we didn't rush the process – great art takes time.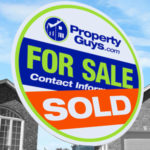 These bright colours should remain this sharp for no less than five years regardless of how the car is stored, or how hot it gets in the summer or how frozen it gets with the wind chill in the winter (Temperature range is -60 Degrees C to +107 Degrees C). We use 3M U-180cv3 vehicle grade vinyl and Gloss Overlaminate 8518 for the most durable results modern science can provide – most or our wraps are still quite bright and sharp with good contrast after eight years or more!
As Canada's largest private sale franchise network, Property Guys already has its hands full disrupting the real estate industry and is now winning big slices of Canadian mortgage industry market share away from our nation's biggest banks. This wrap will be another device in their marketing arsenal to help impact homeowners and win the hearts of minds of more consumers. On that note, we hope to do all the company's wraps and thereby help this nimble young organization change these tired business niches and thereby make life better for all Canadians (except perhaps real estate agents).