Car Graphics and Stickers in Toronto

Sign Source Solution is your best option if you're looking for car graphics in Toronto or car stickers in Toronto. Graphics or stickers on cars are a very convenient way to advertising your service or company, especially if lots of travel in the company car is the norm for your business. Car graphics allow others to see the service or product that you are offering without explicitly looking for it; this is actually an advantage, as the potential customer will be more likely to remember your service or product when it does become something they are seeking.

However, unlike newspapers or billboards, you own the space in which you are advertising on, and so there will be no need to pay additional fees to advertise on a repeat basis. Detailed with car graphics in Toronto or car stickers in Toronto via Sign Source Solution, your car will become a moving billboard for your product or service until you feel that it needs an update. Whether it is a simple, classy logo and website domain of your company on the back of your car, or a detailed full spread on the side of your van, Sign Source Solution can make it happen when it comes to car graphics in Toronto or car stickers in Toronto.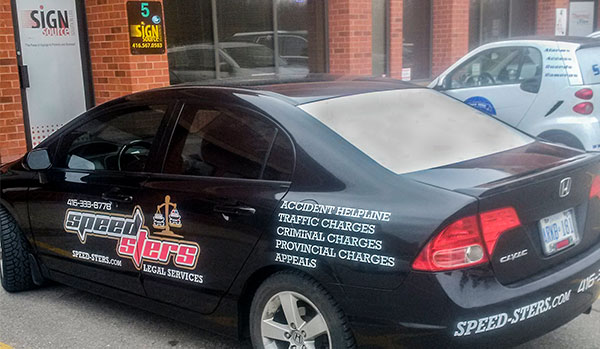 Car graphics are very effective largely due to the ability of transport and advertise your product from one place to another without any additional cost; for example, advertising in a traditional format such as within a newspaper may garner some views, but it may not attract the people who are interested in your product. Also, your product will be competing with other advertisements and content on the page, and as such the impact of your advertisement on the viewer is diminished — this will not be an issue with the use of car graphics.


In Toronto, the population is ever increasing and both foot and car traffic is abundant. This gives car graphics the opportunity to showcase your product to the public to a large variety of potential customers without being restricted to a transient format like a newspaper or magazine, where newer editions come out to replace the old ones. With your vehicle detailed with car stickers in Toronto or any other major metropolitan area, your product will be able to gain more exposure, more effectively, and for a lower cost than in traditional media.