Sign Source Solution is proud to play their part in the urban development of York Region.
We've been working with York Region Transit or YRT for the last four three years, helping them transform Highway 7 into a Transit Rapidway and a more 'complete street'.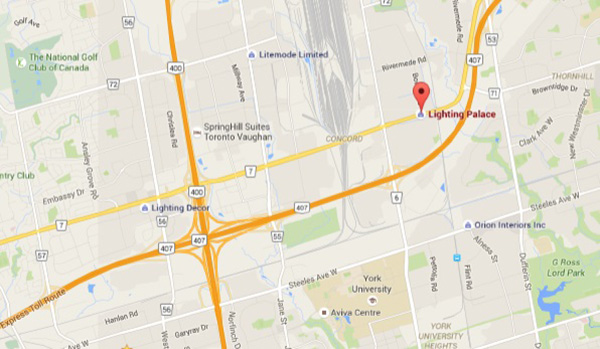 All along Hwy7, Metrolinx construction crews in conjunction with YRT are installing wider sidewalks with more accessibility features and putting in huge tree planters to provide a buffer between pedestrians and traffic. And there will be bike lanes where possible. These elements are all part of York Region's urban design philosophy, part of an approach that will shape the future communities and neighbourhoods that connect to this thoroughfare; it's what Urban Planners call a 'complete street' – a street designed for everyone.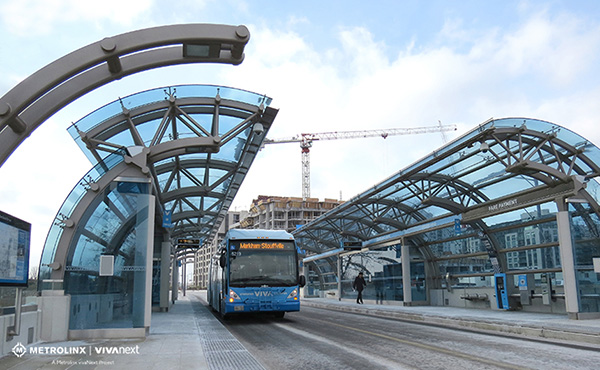 York Region Transit (YRT) is the public transit operator in York Region, Ontario, Canada. YRRT (York Region Rapid Transit Corporation) is located at 3601 Hwy #7, 12th Floor, Markham. Sign Source Solution has been working with this authority for the last three years to create signage for the businesses most affected by the construction. Its very important that existing businesses should not suffer too adversely during construction designed to boast their prosperity.
YRT operates 65 full-time, rush hour and limited routes, 35 school services, 6 Viva Rapid Transit routes and utilizes 14 Toronto Transit Commission (TTC) routes that run within York Region's boundaries.
All of the work is happening while the transit system is still in operation. Average daily ridership is between 150,000 to 200,000 riders on buses and 1,000 on Mobility Plus. 22 million riders used YRT in 2012, an 11.6% increase over 2011. YRT is projecting an excess of 25 million riders in 2016.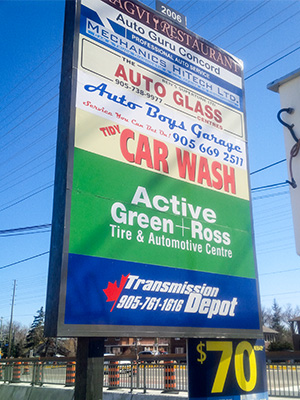 Today commuters along Hwy 7 shuttle through a massive construction zone that's finally nearing completion. This is part of Metrolinx legislative mandate, and it will soon be one of the most beautiful routes in the GTA. If people were to look around for the names of the businesses their eyes might find our pylon signs – both temporary and permanent.
The pylon signs created by Sign Source Solution are meant to show commuters along Hwy #7 that the local businesses are still open during the road widening. Most of these monument signs started out as temporary movable post towers, but today many have been permanently situated. The authority likes working with us because we respond quickly to their needs to reduce driver discomfort and decrease developer liability during all three construction phases.
Positioning Business Signs along Hwy 7 Vaughan
There are a lot of factors that go into the positioning of business signs, and especially sign towers. The decision makers must consider general proximity, and safety, which is more than just visibility, and economy (as in who's paying the most rent). Some landlords create hierarchy on sign towers in accordance with the amount of rent each tenant is paying, while others simply assign positions based on unit numbers (1 on top, 2 below and so on). The YRRT dictates how much room they need for the road widening, then the City of Vaughan defines the distance that commercial signs must be setback from the property line, which is usually about 2 meters. So with all these factors at play, it can be a real struggle for businesses to get signage in a timely manner; Sign Source Solution works with all stake holders to expedite the process.
Not all Viva Bus Station Signs are Blue
Viva is the first phase of York Region's rapid transit plan with Metrolinx, and was designed to reduce traffic congestion. The next phase is called VivaNext which is the complete implementation of a mass transit service that uses high-end Belgian and Canadian-built buses referred to as "rapid transit vehicles" (RTVs) in streamlined routes. To maximize speed, these buses make use of existing or specially lengthened right-turn lanes that bypass lineups at intersections, and of bus-only lanes and roads to avoid traffic. When behind schedule, they are given priority at traffic signals.
Almost all Viva bus station signs are blue, except where they are part of another neighbourhood theme or transit initiative. Viva stations located in the historic districts of Thornhill, Richmond Hill, Aurora, and Main Street Markham have a bronze design referred to as "vivavintage". Viva stations on York University's campus are red to comply with the university's signage policy. Where space is limited, stops are served by miniature "vivamicro" stations.
Viva routes connect to Toronto Transit Commission's Yonge, Spadina, and Sheppard subway lines, GO Transit trains and buses, and to a number of Toronto bus routes. Viva is integrated with YRT's existing bus network.
Each of these stations will have a Metrolinx plaque.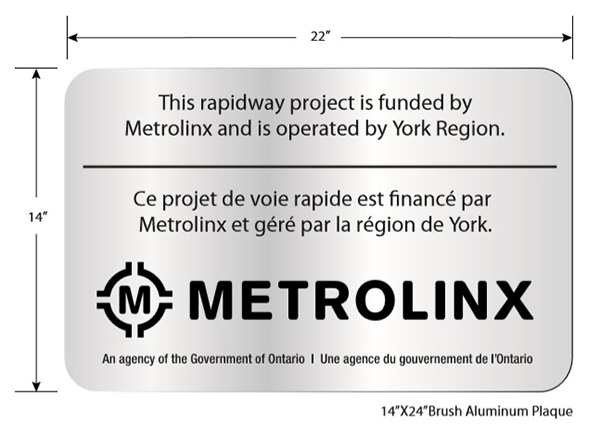 Sign Source Solution made the commemorative metal badges and is today proudly installing them all along the route.