Vehicle Wrap
WARNING if you are in the market to have your vehicle wrapped and you want excellent product,excellent service and instant results GO NO FURTHER as Sign Source is where you need to go. Talk about people with integrity and talent !!!! I LOVE my wrap – it is MORE than what I expected. Their attention to detail is spectacular – they really get it!!!!
Raven Murphy
Aboriginal Education, Workshops/Day Retreats & Group Facilitation.
www.ravenspeaks.ca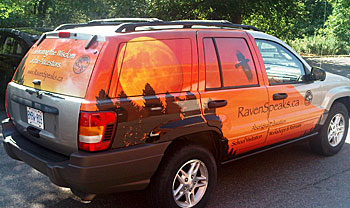 Thank you very much for the great service and professional work on our vehicle car wrap. Our vehicle wrap has created a lot of positive feedback. It is a real head turner! It really helps us in our organization's marketing campaign to brand and promote what we do.
Special thanks to the staff at Sign Source Solution who brought this project (vehicle wrap) to life, they were very instrumental, accommodating and professional.
Brent Kopperson
Executive Director, Windfall Ecology Centre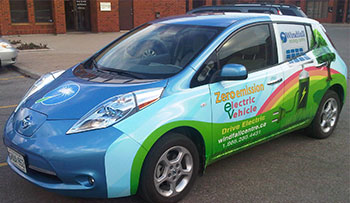 I'm writing to express my extreme satisfaction on the wrap project you and your team did with my PT Cruiser. It has been renamed the DALESMOBILE. The project dramatically exceeded my expectations.  The images I provided were made to fit seamlessly into Alberto's design. He fully grasped the marketing message I wanted to send. The application of the image fits so perfectly into every curve on the car.  It must have been quite a difficult job, yet it was done quickly.
I highly recommend your company, Sign Source Solutions as the best provider of vehicle wraps.
Mario Battista
Dales Bowles Canada
Multi Vehicle Wraps
Looking forward to viewing your creations…our vans look awesome, we get a lot of comments..all good. Thank you
Barry Justus
Poolscape Inc.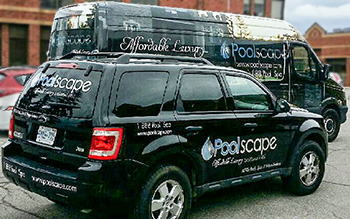 Dodge Grand Caravan
We had our client's Dodge Grand Caravan wrapped at Sign Source recently. We are a graphic design company that created the brand design for our client as well as the vehicle wrap design and sourced the printing and installation of the wrap to Sign Source Solution.
We were impressed with the high quality of the print resolution as well as the excellent installation work. Our client was very pleased with the result. We look forward to working with Sign Source Solution again.
Thank you Avi and Diego for excellent work and good service.
Leslie Savlov
Graphic Flow Design Ltd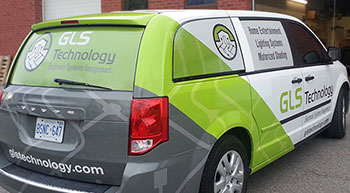 The team at Zebra Paper couldn't be happier with the work Sign Source Solution did for us on our truck. The end product is exceptional and exactly what we were looking for! From design to implementation, they acted in a professional and responsive manner and were able to meet our extremely tight deadline. We highly recommend their services!
Dave Klass
Zebra Paper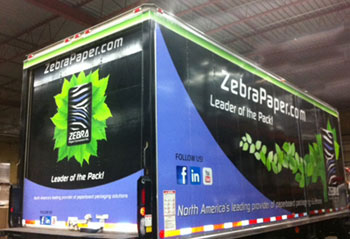 I would like to take this opportunity to personally express to our gratitude and compliments for the exceptional customer service we experienced with the team at Sign Source Solution.
Working with your designer Alberto and your overall flexibility led us to achieving the look we wanted for our service vehicles. This coupled with your commitment to meeting our deadlines made this experience a great success for us.
We are very pleased with the vehicles and turn heads everywhere we go!
Thank you Avi and your team for your professionalism and without any hesitation, we will look forward to doing business with you in the future.
Andy Stewart
President & General Manager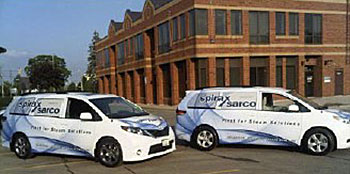 Store Front Window Wrap: The Brick
We are very pleased with the vinyl window art. Your expertise in the field aided to maximize our marketing opportunity. The quality is excellent and the service we received was second to none. Your installers were polite and professional and we appreciated that they worked extended hours to complete the installation in one day realizing our tight time line.
We look forward to working with you in the future!
Kathy Campbell
National Director, Operations Commercial Sales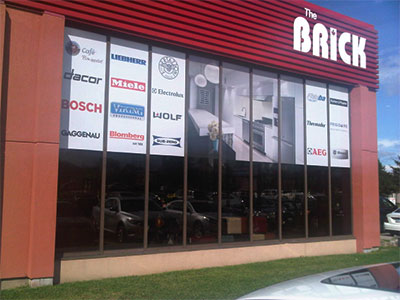 Avi and his team of designers and signmakers are extremely experienced and professional!  When we required new signage for our Learning Centre, Avi and his team were responsive and committed to our vision and timelines. Our illuminated acrylic sign and window decals are stunning! They certainly catch the eye and look fantastic as part of our active Kingsway streetscape! We would recommend Avi and Sign Source to any business wishing to attract clients, improve their image and look professional.
Raegan Hornby & Lisa Sabino
Appletree Centre
appletree-learning.ca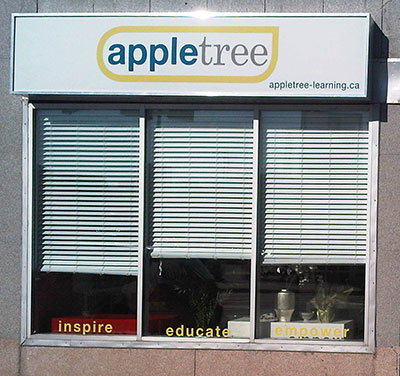 Pylon Sign: Replaced the acrylic faces and printed logo on the faces.
The pleasure was all ours here at JL. I personally would like to thank you again, I dealt with many potential companies on trying to get this thing done and none were as professional as you and your company. So job well done, and I'll be sure to be in touch for future projects and referrals.
Daniel Spataro, Foodservice Assistant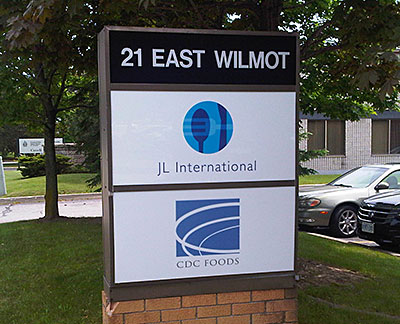 Dear Avi,
The words "thank you" just don't do justice to the appreciation that I feel for how much you have assisted me and my clients! Your service is unparalleled!! Your pricing has been awesome and your work is tops!!! You most recently held a bus for my client in your shop for SIX weeks, because they could not accept delivery ASAP as they had asked for! This was after you got more staff to get the job done for them ASAP!!! You were most gracious about it! My clients have been thrilled with the bus wraps that you have done for them – again with the quality of the work and the timely fashion that you get it all done in. And to top it all – you have helped me deliver some of those buses to my clients location! Thanks for driving the buses for me!! 😉 With much appreciation for EVERYTHING,
Adina Reichman
ULTIMATEWheels2U.com

Alberto I absolutely love these designs you came up with. I can't stop looking at it. You did a great job thank you so much. Once again thank you so much I really love it.
Sam. Meteor Shower Glass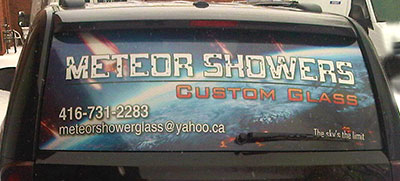 Thanks again for getting these tasks done so quickly, effectively and reasonably priced as well. As you can see we have a lot of potential work for you guys and we always need something printed. I think we have started a great relationship and would love to continue to work with you guys in the future.
Angi Duz, Lifetime Developments
Delivery Vans

I own a busy downtown flower shop in Toronto. I have 2 delivery vans that are on the road all the time. They need to look great to help me advertise my shop. And they can't be off the road while they are being worked on.
When I got my new Transit connect – it needed graphics. I found Sign Source on Kijiji and I was a bit worried about using them. I had never heard of them before and their price was much more competitive than the large well known sign company I had used before.
After reading some online reviews and decided to give them a try. They were great! They did the job professionally and on time. The graphics look perfect! They were quick and the van was off the road only for a short time. They even offered to fix a small mistake (- on my part) at no extra cost.
I'd be happy to use them again for my vehicles and other signs I need and I'd gladly recommend them to other businesses.
Claire Rose McLeod, Proprietor
Ladybug Florist.com
Ice Cream Trucks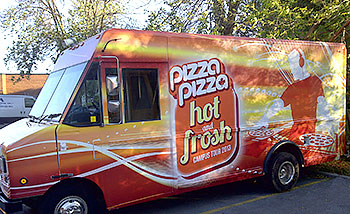 Avi, I just wanted to let you know that you and your team did an amazing job. I will touch base Monday with the rest of payment. I really appreciate it. I may have a couple more projects soon and they won't be rushed like this one. Thanks,
AH
Exterior Signs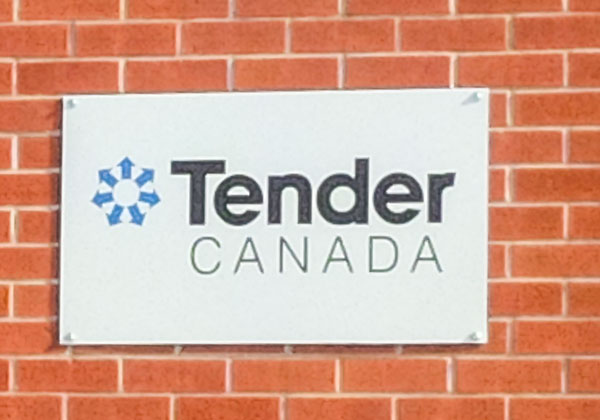 Thanks Avi!
They look great. I will transfer balance now. Thanks for the nice work and fast turnaround. Always appreciate good business practice.
Carol Levy, President & Creative Director
The Freelance Portfolio, Inc.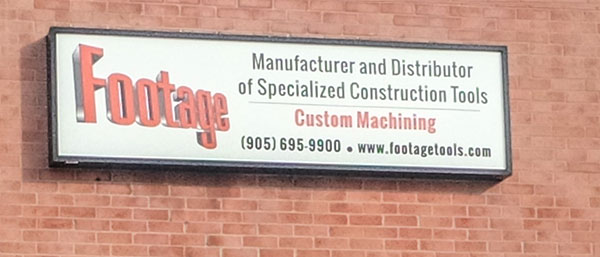 The sign looks great!
Great work.
Thanks, Dan
Footage Tools, Vaughan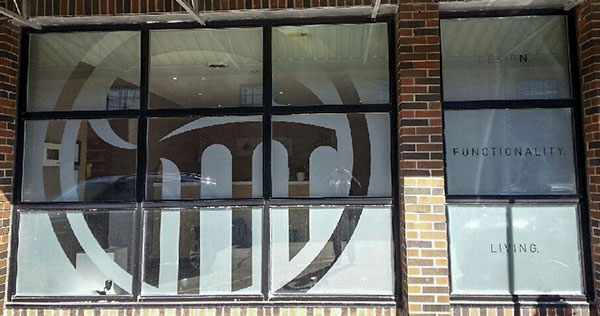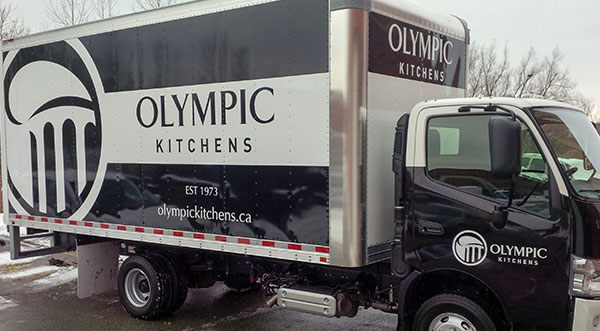 Hi Avi,
Thank you for the photo. Benito and I look forward to seeing the work in person sometime next week. As I mentioned we received a call from our client, Louie and he was very happy with the result. Thank you for getting this done for us this week and making our client happy.
Best regards,
Leslie
Interior Signs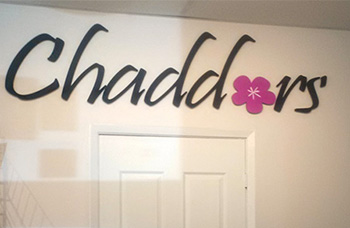 The Team at Chaddors had an absolute pleasure working with Avi and his team. We had requested an acrylic logo to be supplied and installed on very short notice! Avi was very reasonable with his pricing and able to deliver a deliver a day before the requested date! We definitely will work with Sign Source in the future!
Marriam Tariq, Chaddors